Is your marketing plan ready for you to be "Open for Business?"
Here is the Official Biggest Loser's guide to create a better marketing plan.
Shape up, Look good, Have fun and start generating more leads anytime you like.
This is a Tragic tale of an out of shape businesses that gained weight over winter, became unmotivated due to slowing sales and needed get into shape for the summer business season.
Hey wait a minute, does this sound like your business?
Are you feeling a little disillusioned, disheartened and lacking direction on how to move forward?
You are not alone, if you are really serious about being in business then:
It's time to reflect and weigh in, Biggest loser style.
It's time to turn on the camera and tell yourself how you let your business get this way, it used to be fast fit and exciting which is why you have invested so much time getting off the ground.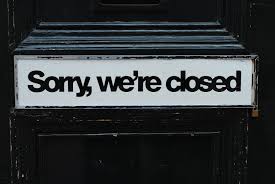 Reflect on where you think you went wrong, what used to work that you stopped doing, what started the lack of motivation, maybe just like on the Biggest Loser TV show you need to pack up and go to bootcamp or find a business coach to get you back in shape and keep you on track.
You need to turn off the tv, get off the couch, and start making immediate changes.
Start with the end in mind, just like losing weight you need to have a goal and measurable milestones. At first make them realistic and easy to achieve to get you motivated, then start adding small stretches to incentivise you to push yourself harder.
Reward yourself for reaching those milestones, could be as simple as taking yourself out for a coffee in your favorite cafe, or buying something for the business you've always wanted.
Create a monthly business and marketing plan, make sure you focus on Local Area Marketing, this can be simply low cost networking and relationship building to sponsorship of a local club.
Set monthly goals, plan in advance your marketing so you can give yourself the best possible chance of success. There is not point in running a promotion if it's left to promote it at the last minute or worse you fail to promote it properly and it fails.
Once you've created your business goals and marketing calendar (when) next step is to design your campaigns (who, what and how)
Understand your target customer.
Stop kidding yourself, "Everybody" is not a target customer, age, sex, religion, culture, height, the list is endless, but if you can clearly identify your customers, your marketing efforts are guaranteed to fail even before you get started.
You customer could be male aged 25 to 35, have a beard, short hair, drives a newish car, educated, and likes fashion, just so you can sell them a grooming kit.
In many cases postcode can be a factor, commission and high end luxury homes dont tend to be in the same street, but still be located in the same postcode.
Your local area marketing strategy could involve two different offers to cater for the different markets.
Whilst the product or service could be the same, the way the advert is styled could be different, effectively creating an A & B test of your campaign.
Create an exciting offer:
So what can you do to
If you're a hardware business you could send out a voucher for a free punnet of seedlings, no strings attached, you will be quietly surprised what they buy when they come to collect their punnet. Do a deal with a local nursery to buy in bulk in return for promoting their business.
A clothing store could offer a free pair of socks, earrings, etc just to reward customers for coming in the door.
Run an exciting competition, something simple like drop your entry in to go in the draw to win $100 cool cash, dinner for 2 at a local restaurant who could sponsor the prize.
Try not to offer a discount as this just cheapens your offer and makes it hard to build profits, instead get creative in how you can value add like the examples above.
Be daring, be different.
Ask a local independent service station if you can run a "get 10c a litre off fuel" deal, if you think about it most cars use around 50 – 60 litres to fill up that is a risk of just $6!
To reduce the risk you could set a minimum spend, it must work as the big supermarkets have been doing it for a long time.
Take the first step to feel something better.
Look at your branding, does the business need a lick of paint, new fresh signage, a thorough spring clean.
Take the time to review your offer and be brave enough to bin stock, services and dare I say it clients that don't add value.
look at all of your marketing touch points and give them a biggest looser make over.
Get back into the conversation
When you started your business venture you spent time networking, meeting new people who were potential clients or people who could connect you with your clients. Over time we all stop doing what is a fundamental cornerstone of our marketing strategy, talking to people about what their problems are and how you as a business could help solve them.
Where to from here? Make a list of people you want to re-engage with or connect with and once a week cross one off your list and stay connected on a regular basis. They may not come on board straight away and chances are they won't, but nurture the relationship and over time it will become fruitful in one way or another.
Continue to weigh yourself.
Keep checking in, measure how you are going against your milestones, how can you monitor and say you are successful if you don't measure your progress regularly.
It's ok to adjust your strategy as necessary, but stick to you path, just like any diet, giving up is guaranteed to put you back where you started, you need to occasionally reward yourself and when you are tempted and fall off the diet (and you will) dust yourself off, grab your business plan, and get back on the path to success.
If you need help with your business's Local Area Marketing, give the experts at WorksLocal a call on 1300 946 227 for a free half hour initial consultation.
For more great tip make sure you "like" our Facebook page.