Hands Up who would like some FREE MARKETING in the main street?
Do you want FREE MARKETING?
Now you can when you provide your customers with Car Sunshades as a promotional giveaway.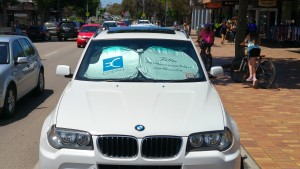 Just imagine a street or carpark at the beach full of cars displaying your logo and at the same time your the hero for helping keep their car cool.
For more information please call Tim on 1300 946 227 or email us at getconnected@workslocal.com.au
For more low cost creative ideas for your business check out http://www.workslocal.com.au
Follow our Facebook Page for more FREE MARKETING tips and tricks and local area marketing ideas.