Bluetooth & Wifi Marketing
Redeem Pro – Next Generation Mobile Marketing
Redeem Pro is a new proximity coupon / message delivery solution which allows you to interact and engage with your customers as they are browsing, shopping or eating.
Redeem Pro is a turn key solution set up and installed in high footfall traffic locations in Shopping Centres, Exhibition Centres and other places where customers gather, that enables you to promote messages, coupons and or discounts offers to customers mobile phones instantly.
Redeem Pro uses integrated Bluetooth & WiFi proximity servers to deliver the messages, coupons and promotion materials to your customers when they are in close proximity to your store or venue.
"Redeem Pro allows you to really grab their attention and get your message across when your customer is nearby"
High visibility interactive Redeem Pro screens are installed in location to create awareness for your coupon offers and discount promotions while our team of Redeem Pro reps are on ground to ensure people take advantage of the discount offers and work to drive people right into your store.
All a customers needs to do is to log on to the Redeem Pro WiFi Hot spot on there mobile phones or tablets and they get instant access to your coupon / discount offer which they then bring in store to redeem, it could not be simpler.
Redeem Pro takes coupon issuance and message delivery to the next level whereby customers get messages, coupons and discount offers while they are shopping and eating or in close proximity to you. This means they are much more likely to come and take advantage of your promotion / incentive.
White Label Option
We also offer a premium version of Redeem Pro that includes a custom built white label own branded IOS and Android mobile app. Once a customer downloads your app you will be able to send them promotions and discounts along with information about your products and services 24/7 straight to their mobile phones via the Redeem Pro unlimited push notification feature.
The Redeem Pro mobile app acts as your very own mobile loyalty program allowing to create points based or purchase based loyalty incentives and initiatives along with coupons and discount promotions that can all be redeemed in store by your customers.
The Redeem Pro app allows you to build an informed and interactive customer base that you can take on any desired customer journey.
Redeem Pro Mobile App
Custom Built Layout and Design – we build you a custom white label own branded mobile app to your preferred design.
Multi Platform App– your custom build own branded mobile app will be available on both IOS and Android.
Cloud CMS platform – full access to update and manage all coupons via cloud based CMS platform which allows you to add the discount offers and loyalty programs you would like featured on the app with real time updates and statistics.
Social Media – Ability for people to log into the App via either Face Book or Twitter which gives us instant access to a global audience.
Redemption Platform – ability to display NFC and Bar code versions of coupons and vouchers means ease of both merchant and customer redemption. All coupons and vouchers are redeemable in store or online.
Geo-location – gives you access to the location of the App user and auto notifies them when they are close to your store.
Push Notifications – send an unlimited number push notifications to all App users giving you the ability to send coupons, vouchers and discount promotions as well as any desired information on products / services 24/7 to your customers.
Integrated Marketing – in app marketing features and functions allows app users to easily share coupons and vouchers with friends and followers via Social media, SMS and email allowing them to invite their friends and family to download your app.
Redeem Pro is a marketing revenue income generator that helps your customers reach theirs and is ideal for use in:
Shopping strips
Shopping centres
Public Transport
Redeem Pro can broadcast more than just rewards, it can deliver information into the palm of the mobile phone users hands
Exhibition Building
Conference Halls
Events
Museums
Train stations
In fact anywhere people gather and you need to deliver your offer or message!
How Redeem Pro Works…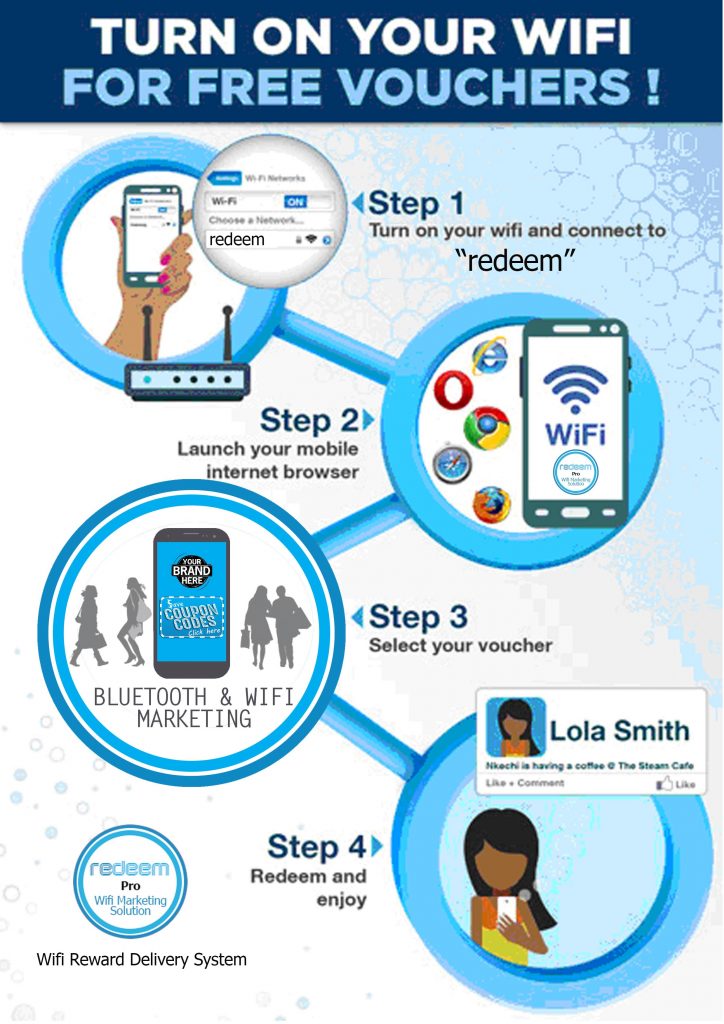 Redeem Pro-Lite
Interactive Screen
Proximity Router
Redeem Pro Rep on location
Redeem Pro Premium
Interactive Screen
Proximity Router
Redeem Pro Rep on Location
Redeem Pro White Label Mobile App (IOS & Android)